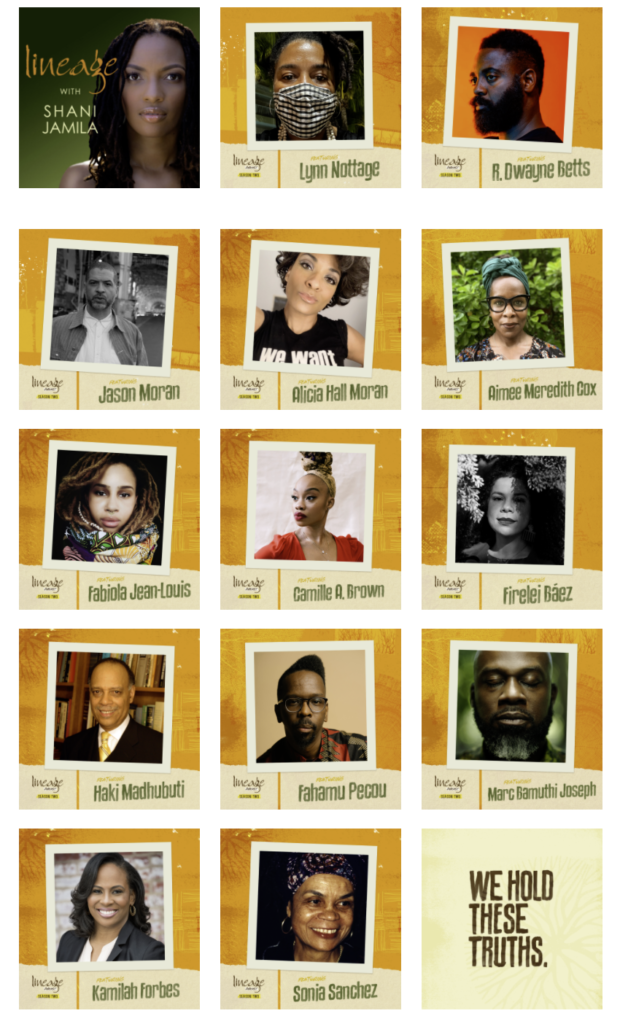 Lineage is an archive of intimate, in-depth conversations Shani Jamila hosts with fellow contemporary socially engaged Black artists. Each individual episode has been a gift, and the collective is truly exceptional.
Episodes include the oral histories of Pulitzer prize winning playwright Lynn Nottage; poet, lawyer and MacArthur fellow Dwayne Betts; Apollo Theater Executive Producer and director of HBO's Between the World and Me Kamilah Forbes; choreographer and the first Black woman director at the Metropolitan Opera Camille A. Brown; iconic poets and founders of the Black Arts Movement, Sonia Sanchez and Haki Madhubuti; artists and scholars Dr. Fahamu Pecou and Dr. Aimee Meredith Cox; writer, performer and Vice President at The Kennedy Center Marc Bamuthi Joseph; 2021 Rome Prize winner, painter Firelei Baez; photographer and sculptor Fabiola Jean-Louis; and musicians Jason Moran and Alicia Hall Moran.
The full archive, which includes the inaugural season, is freely available and publicly accessible on lineagepodcast.com. While there be sure to check out We Hold These Truths, Shani's meditative film which features many of the brilliant guests from this current season, and subscribe, rate and review the podcast.
Stay tuned for new episodes with extraordinary guests including author Kiese Laymon and the renowned artist Carrie Mae Weems. Together, we tell an intergenerational story of what it means to be Black in America.